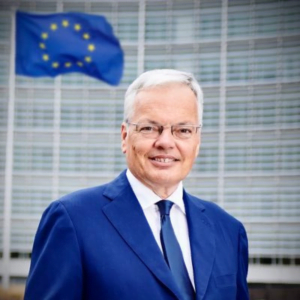 European Commission
European Commissioner for Justice
Didier Reynders
I congratulate InfoCons on 20 years of consumer protection. The single market ensures high standards of consumer rights. Throughout the Union, we can be confident the products we buy are safe, we are protected against unfair practices, and we are able to enforce our rights. Consumer organisations are indispensable in supporting, protecting and informing consumers.
Our vision for Consumer Policy up until 2025 is captured in the New Consumer Agenda. It is structured around five priority areas: the green transition, the digital transformation, effective enforcement, and redress, addressing specific consumer needs, and consumer protection in the global context. We continue to deliver on the actions that are outlined in the Agenda, and in particular have made legislative proposals, for instance on empowering consumers for the green transition, or on modernising the rules around consumer credit and distance marketing of financial services. We are currently doing a fitness check of all European consumer legislation, to see whether it is still fit for purpose in the digital era.
The success of our Consumer Agenda will depend on a broad partnership involving all relevant stakeholders. We support Member States, for instance in the transposition of EU legislation, or through strengthening the capacity of national authorities. We have, for example, developed a toolbox of innovative e-tools that can be used to tackle online commercial practices. We also work with companies that are willing to go the extra mile and become sustainable or offer consumer protection beyond the legal requirements. We have studied which criteria help to make targeted, local consumer advice successful, and we are working on a strategic approach to improve consumer awareness and education.
Consumers are affected by current affairs in diverse ways, and it is our task to address their needs in the best possible way. When the pandemic hit, and lockdowns were imposed, people moved from brick-and-mortar stores to online shopping – where they could be exposed to frauds and scams, or dark patterns. The demand for personal protective equipment soared, putting more emphasis on product safety. The experience from the pandemic called for a deeper analysis into the regulatory framework for package travel. Today, consumers face energy price spikes, and important increases in cost-of-living. We know that large groups of consumers are concerned about making ends meet, have taken measures to lower their energy consumption, or have used their savings to get to the end of the month. I believe it is up to us to not only respond to unexpected crises, but to ensure our policies are resilient and future-proof, whatever comes our way.