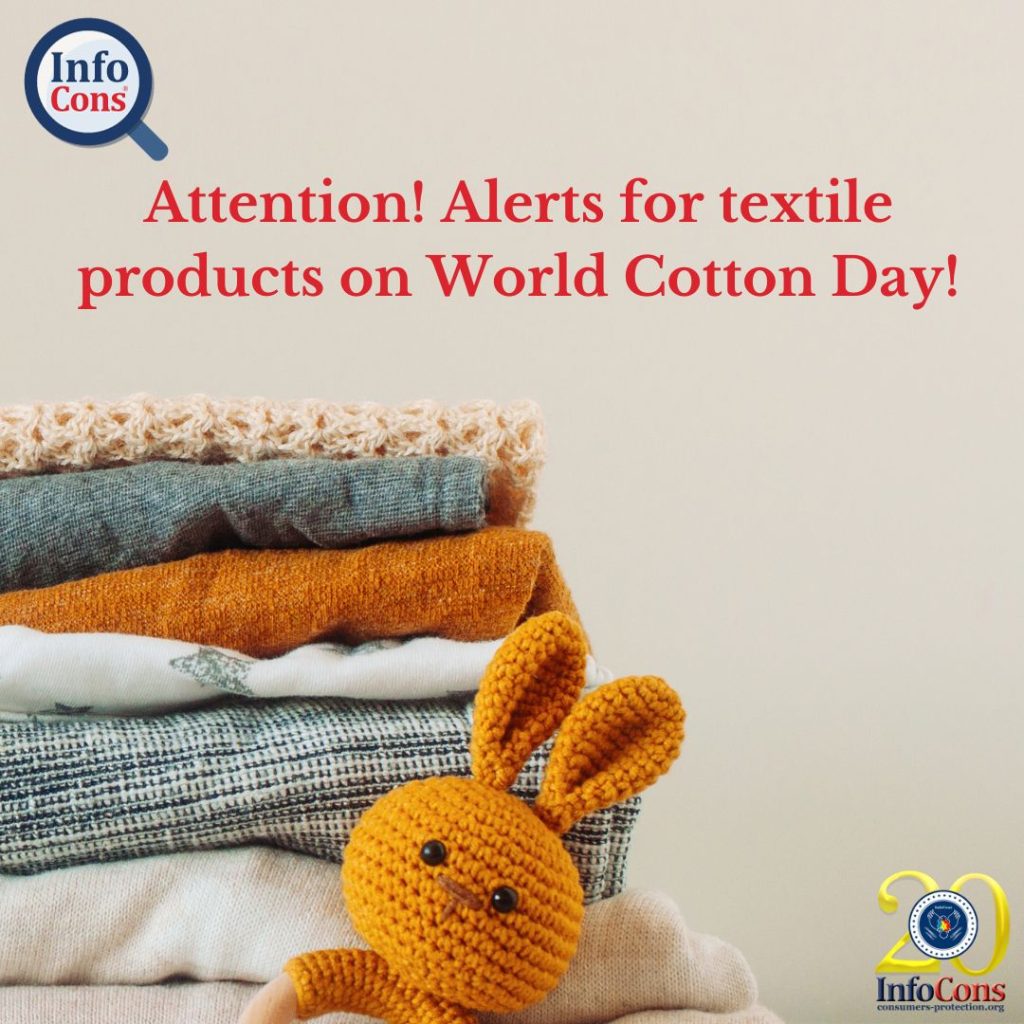 On World Cotton Day (October 7th), InfoCons is here to assist consumers with rapid alerts for non-food products within the European Union! To stay informed about all alerts issued by the European Union, InfoCons provides consumers with the free InfoCons App. By downloading the app from the App Store, Google Play, or App Gallery, consumers gain direct and transparent access to alerts for non-food products, updated daily, and accompanied by details such as:
Product name;
Targeted country;
Risk level;
Product origin;
Date on which the alert becomes effective;
Photo of the relevant product;
Attention! Before making a purchase, access the InfoCons App to ensure that the products have not been the subject of European Union issued alerts for non-food.
With the help of the InfoCons Application, consumers can quickly and easily access alerts regarding non-food products in one place, without the need to go through a heavy search process, which often involves a waste of time or is unsuccessful. The alerts for non-food products within the InfoCons App are organized chronologically, allowing consumers to see the most recent alert before the older ones, thus providing them with real-time updated and relevant information.
The identified risks for clothing items (hoodies, dresses, shoes, t-shirts, etc.) from the existing alerts within the InfoCons consumer protection app are as follows:
The product has long functional cords with free ends in the neck area, which can become entangled during various activities of a child, leading to strangulation or injuries.
The Velcro on the shoe may fail, causing the strap to come loose and creating a tripping hazard for children. A child may fall and suffer injuries.
The leather used in the product contains chromium VI (measured value up to 15.2 mg/kg). Chromium (VI) is a sensitizer, it can trigger allergic reactions, and may cause cancer.
The product has an excessive concentration of bis(2-ethylhexyl) phthalate (DEHP) (measured value up to 1.37% by weight). This phthalate can harm children's health, causing damage to their reproductive system.
Useful InfoCons Tips for Purchasing Clothing Items:
Read the label! Textile product labels should contain information in Romanian regarding fiber composition, names of component fibers, and the weight percentage of each used fiber. In the case of textile products with linings, the label should also contain information about their composition.
Textile products should have a label made of textile material, resistant to wet-heat treatments, sewn or attached inside the product, providing information about care instructions. These instructions should cover all treatments such as washing, bleaching, ironing, dry cleaning, and machine drying, whether applicable or not (if a treatment doesn't apply, the respective symbol is crossed out/barred).
The free ends of sliding cords, functional cords, and knotted belts or scarves should not contain three-dimensional ornaments or knots and should be protected against fraying (by hot melting or reinforced stitching). Additionally, the ends can be folded or pleated as long as they do not create a risk of entanglement.
Request a receipt when purchasing clothing to have a supporting document in case you need to make a complaint.
Beware of unsolicited sales offers also from unauthorized individuals!
Check the return policy of the respective company in case of ulterior defects!
According to a study conducted by the European Union Intellectual Property Office, in which InfoCons represents Romania within the Civil Society Group, 40% of young Romanians purchase counterfeit products. Among the counterfeit products purchased, clothing and accessories represent 17%.
In this context, reading the label is essential! Do not buy clothing from unauthorized sources to avoid being deceived regarding the composition and quality of materials!